Description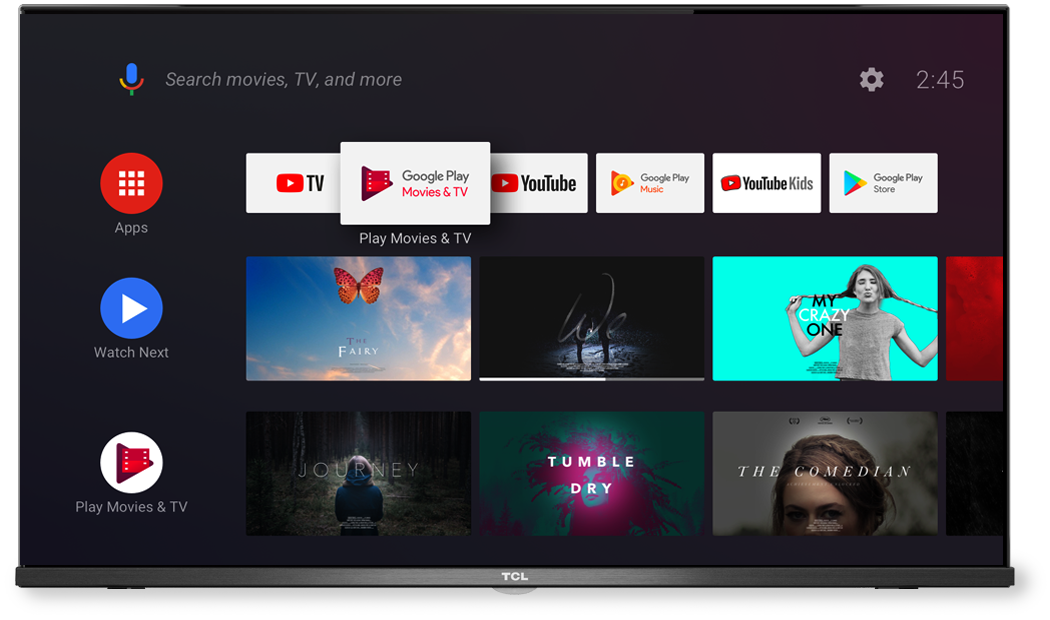 ANDROID TV FOR EASY AND UNLIMITED ENTETAINMENT
WITH GOOGLE PLAY*, YOU GET UNLIMITED ACCESS TO SELECTED GAMES, MUSIC, MOVIES, TV SHOWS AND A WIDE RANGE OF APPS WITH A CLICK OF A BUTTON AND ALL FROM YOUR LIVING ROOM. WITH GOOGLE CHROMECAST BUILT-IN, YOU CAN CAST AND SHARE YOUR PHOTOS, VIDEOS AND APPS FROM YOUR SMART DEVICE STRAIGHT TO YOUR TV.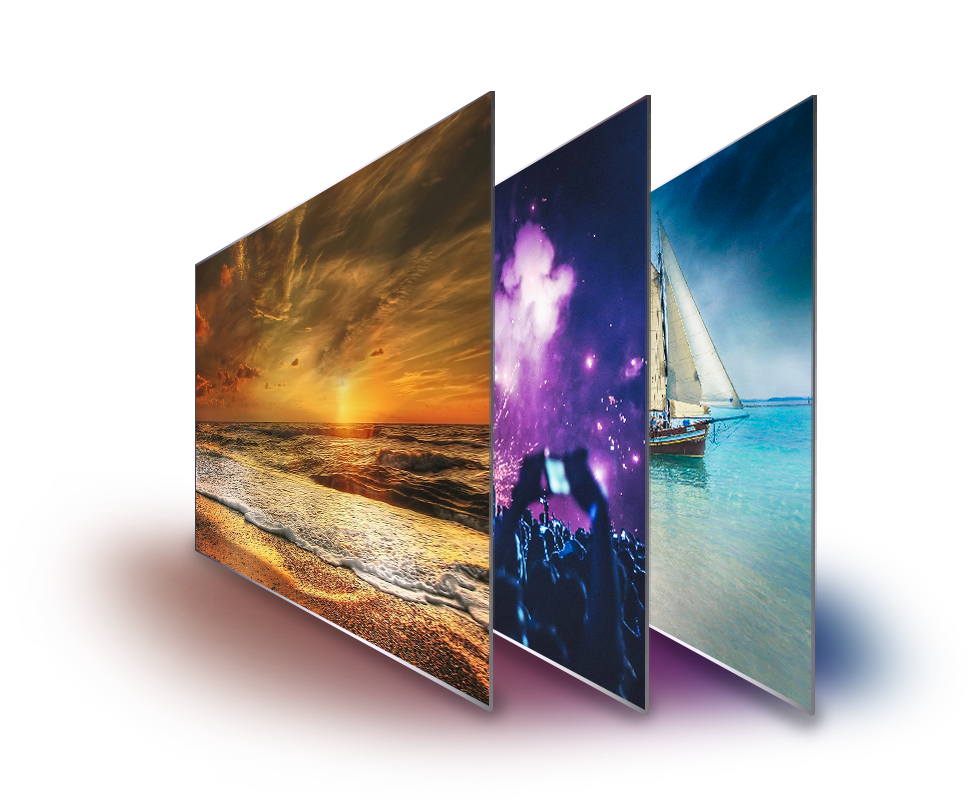 FULL SCREEN LED TV
NO FRAME ON THE FRONT FOR A BIGGER SCREEN AND PICTURE THAT YOU LOVE. THIS ULTRA SLIM DESIGN CONCEPT IS USING REAL METAL, MAKING IT NOT ONLY AN ELEGANT PIECE OF CRAFTSMANSHIP BUT ALSO A DURABLE ONE THAT WILL BLEND INTO YOUR LIVING SPACE. MINI LED TECHNOLOGY MAKES IT ONE OF THE SLIMMEST DIRECT LED TV IN THE WORLD AND ALLOWS BEST PICTURE QUALITY WITHOUT COMPROMISE ON DESIGN. EXTREME PERFORMANCE MEETS BREATHTAKING ELEGANCE IN A PERFECT HARMONY.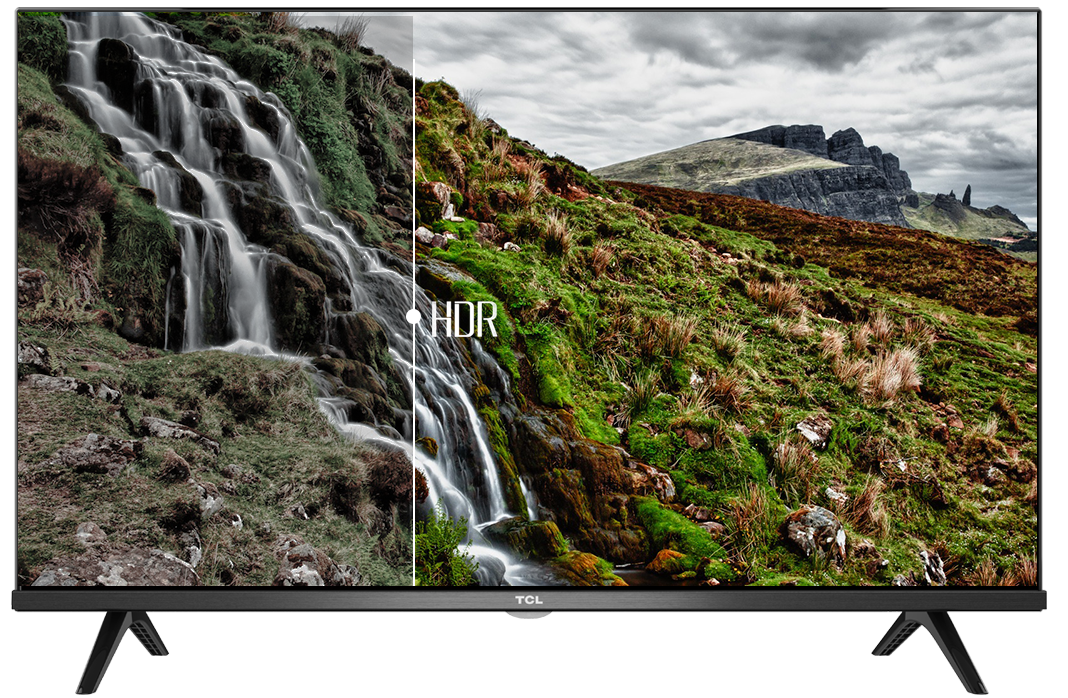 TRUE TO LIFE PICTURE WITH HDR
UNLOCK THE TRUE POTENTIAL IN PICTURE QUALITY WITH TCL'S HDR TECHNOLOGY. HIGH DYNAMIC RANGE (HDR) PROVIDES A WHOLE NEW LEVEL OF RICHNESS AND PRECISION IN PICTURE QUALITY, AS WELL AS DELIVERING A MORE REALISTIC IMAGE WITH FINE DETAILED AND EXPANDED REPRODUCTION OF CONTRAST LEVELS AND SUPERIOR COLOUR ACCURACY
*Available only on HDR content.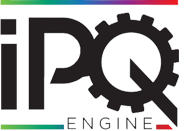 IPQ ENGINE
PRECISION COLOR FIELD CONTROL, HIGH BRIGHTNESS PRECISION CONTROL, INTELLIGENT COLOR RANGE CONTROL AND FOUR-DIMENSIONAL SCENE OPTIMIZATION ARE ALL THE SUPPORTED TECHNOLOGIES OF IPQ ENGINE, WHICH CAN OPTIMIZE PICTURE QUALITY IN COLOR, BRIGHTNESS AND CONTRAST SO THAT BRINGING BETTER VIEWING EXPERIENCE FOR USERS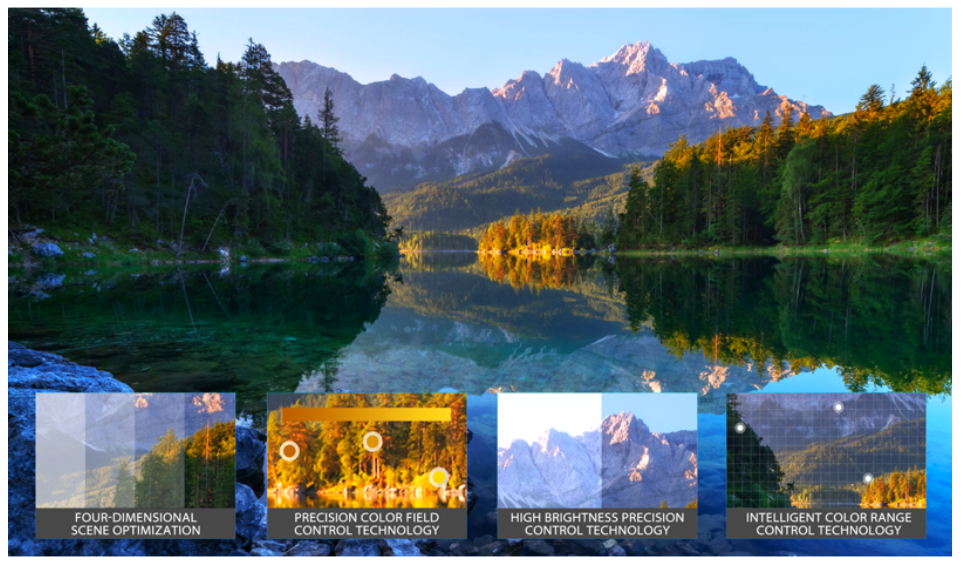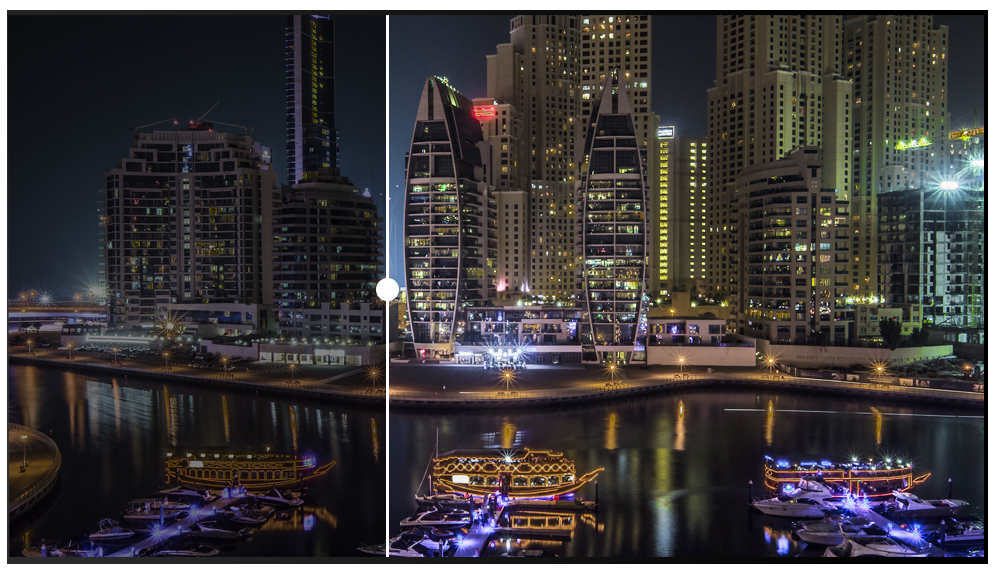 MICRO DIMMING
MICRO DIMMING ANALYSES THE TV CONTENT IN HUNDREDS OF SEPARATE ZONES TO ADJUST THE BRIGHTNESS AND DARKNESS. THE PICTURE QUALITY IS SIMPLY IMPROVED AND PAMPERS YOUR EYES. YOU WILL ENJOY A FANTASTIC VIEWING EXPERIENCE WITH GREAT CONTRAST, ESPECIALLY IN DARK.
SUPER NARROW BEZEL LED TV
SLIM PROFILE AND THIN BEZEL MAKE TV LOOK NICE NO MATTER IT IS ON OR OFF. IT COMBINES FUNCTION AND FASHION IN A SUPREME SHOW OF ELEGANCE. SCREEN IMAGES COME TO LIFE ON A TCL TV THAT FEATURES SUPER NARROW BEZEL, ALL YOUR FOCUS WILL BE ON THE SCREEN WHICH BRINGS YOU THE BEST VISUAL EXPERIENCE THAN EVER.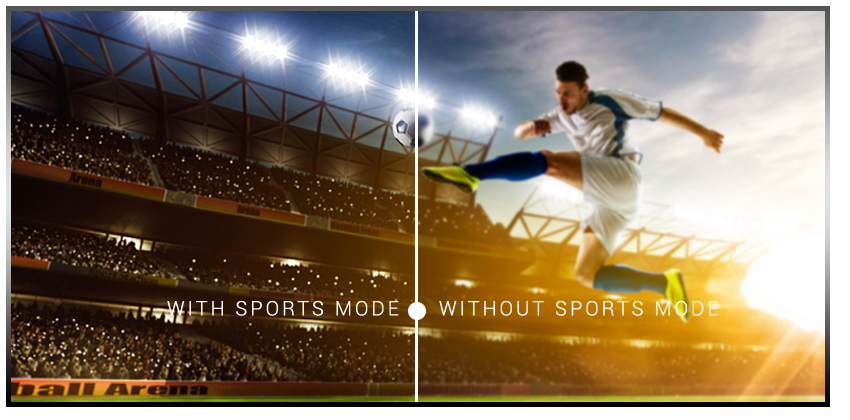 DEDICATED SPORTS MODE
THE OPTIMIZATION OF IMAGES AND SOUND ALLOWS AUDIENCES TO ENJOY THE IMMERSIVE FEELING OF LIVE-ACTION SPORTS EVENTS.
DOLBY AUDIO SYSTEM
DELIVERS IMMERSIVE 5.1 SURROUND SOUND WITH DOLBY DECODER WHICH OPTIMIZES THE TV'S SOUND QUALITY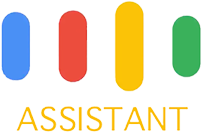 MEET YOUR GOOGLE ASSISTANT
ASK IT QUESTIONS. TELL IT TO DO THINGS. IT'S YOUR OWN PERSONAL GOOGLE, ALWAYS READY TO HELP WITH OVER 1 MILLION ACTIONS. ASK IT ANYTHING TELL IT TO DO THINGS. CONTROL HOME DEVICES.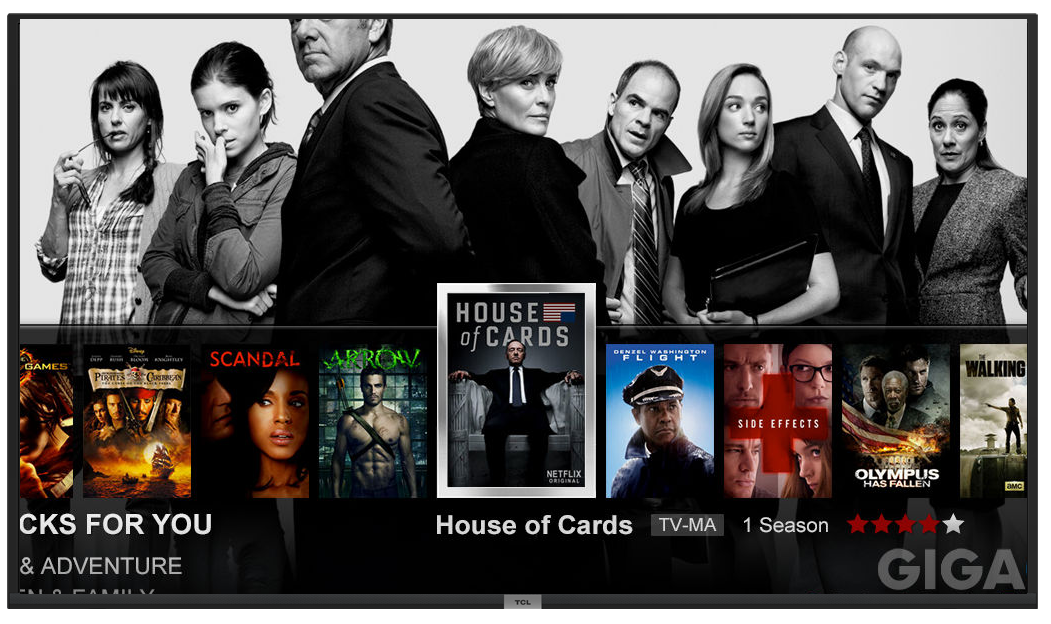 WATCH NETFLIX IN 4K HDR
NETFLIX IS ONE OF THE LARGEST INTERNET TV CHANNELS IN THE WORLD, WITH A RANGE OF PROGRAMMES DESIGNED TO HAVE SOMETHING FOR EVERYONE. WATCH PROGRAMMES SCHEDULED JUST FOR YOU, INCLUDING NETFLIX ORIGINAL SERIES AND AWARD- WINNING FILMS AND DOCUMENTARIES. NOW AVAILABLE IN 4K UHD HDR QUALITY.

VOICE REMOTE
"HOW'S THE WEATHER IN LONDON? WHAT WERE THE OSCAR NOMINATED MOVIES IN 2016? I WANT TO WATCH ACTION MOVIES." BY USING VOICE SEARCH, YOU DO NOT HAVE TO LOOK THROUGH THE COMPLICATED NAVIGATION BAR OR DO ANY TIRESOME TYPING, YOU CAN EASILY GET WHAT YOU LIKE BY ASKING.

WATCH YOUTUBE IN 4K HDR
WITH YOUTUBE, YOU CAN SEE WHAT THE WHOLE WORLD IS WATCHING, FROM THE MOST POPULAR MUSIC VIDEOS TO THE VIDEO GAMES AND POPULAR ENTERTAINMENT PROGRAMS, VIA THE NEWS AND MUCH MORE. SUBSCRIBE TO THE CHANNELS YOU LIKE, SHARE WITH YOUR FRIENDS AND WATCH ON ANY DEVICE.
TCL A5 – 40 Smart Android FHD LED TV – Black
General Features
OS

Android O,Certified by Google Android TV

RAM/ROM

8G Byte eMMC Memory

UI Style

Google Android TV UI

Certification

CB, Dolby Audio, CTS (Google official certification)
Display
Display Resolution

1920*1080

Brightness (cd/m2)

220(Typ.)

Response Time (G to G)

6.5ms

Colors

16.7 Million(8bit)

Backlight Adjustable

Yes (0~100)
Audio
Speaker Type

Integrated speaker BOX

Audio Power Output(THD=7%

2×5W

Dolby Decoder

MS12B config D

DTS

Balance, Auto volume control, Spdif type, SPDIF delay
Connectivity
Internet Link

COMB/WIFI/2.4G/2*2/BT, Ethernet Network RJ45

HDMI&HDCP Version

HDMI1.4b,HDCP1.4
Warranty
TV Parts

2 Years ( Panel, Parts, Or Home Service, Except Breakage of Panel and Electric Spark or Burnt)