Description
Orient T3 IoT DC Inverter Lunar Series Air-conditioners are equipped with T3 Tropicalized Inverter technology to ensure best cooling performance even at an ambient temperature of 60 degree celsius. Its Biggest Indoor unit ensures fastest cooling and 30 Feet long 4D air throw reaches to every corner of the room. Its revolutionary Optimized Compressor Drive Technology gives fastest cooling in just 30 seconds. Low Voltage operation ensures non-stop cooling at all places. Auto Clean Sterilization System and Auto Pilot Feature saves electricity cost up to 80%. Company installed Wi-Fi Kit,100% Pure Copper, Japanese PCB Module, Gold Fin – Anti Rust Coating, Low Noise Operations and R410 makes it the best choice in the market.
Features
T3 tropicalized inverter
Japanese PCB Kit
Auto Pilot
Low voltage operation
30 feet long 4D air throw
Auto Clean Sterilization System
For All Weathers Heat & Cool
100 % Pure copper
Turbo mode
Low Noise Operations
Gold Fin – Anti Rust Coating
Catechin filters
Japanese PCB Kit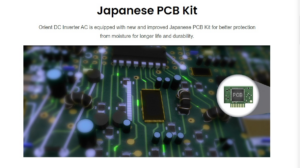 Orient T3 IoT DC Inverter AC is equipped with new and improved Japanese PCB Kit for better protection from moisture for longer life and durability.
50 Feet Long 4D Air Throw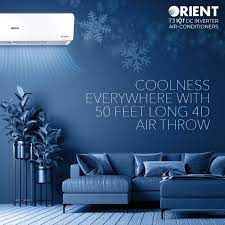 50 Feet Long 4D Air Throw of Orient T3 IoT DC Inverter AC spreads air evenly in every corner to ensure faster cooling and better energy saving.
Biggest Indoor Unit (1.1M)
The absolute beauty and grace of the indoor unit comes in a bigger form than ever before. 1.1M in size and several times more in function, the indoor unit is perfect for its function.
Orient T3 IoT DC Inverter AC comes with 1.1 meter big indoor unit with bigger fan motor and better airflow which results in ultimate cooling and heating performance.
Gold Fin Anti-Rust Coating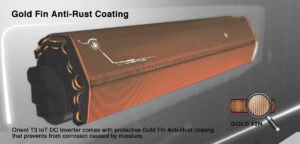 Orient T3 IoT DC Inverter AC comes with protective Gold Fin Anti-Rust coating that prevents from corrosion caused by moisture.