Description
Dawlance Ac 1 Ton Dc Inverter ELEGANCE (INV) Latest Model – 4 Years P.C.B Card Warranty – 12 Years Compressor Warranty
Product Features
Rapid Cooling
Dawlance air conditioners are the perfect solution for cooling your home or business. Their rapid cooling speeds mean that you can be comfortable sooner than ever before.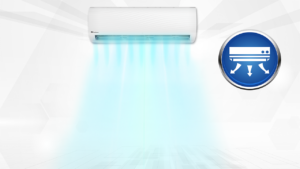 Dual Functions of Heating & Cooling
Our Multi-functional Air Conditioners have now got you covered in Summers as well as Winters with Dual Technology of Cooling & Heating with a single touch of a button.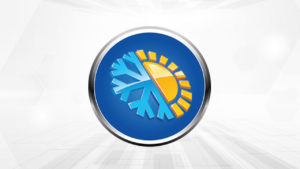 Gold Fin
This floor standing air conditioning unit comes with improved Hydrophilic & Heat technology, which protects from rust and corrosive items.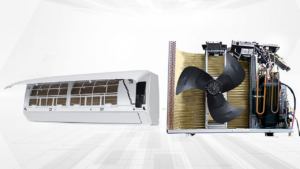 Low Voltage Operation
Our airconditioner allows a continous operation even under severe power fluctuation- as low as 150V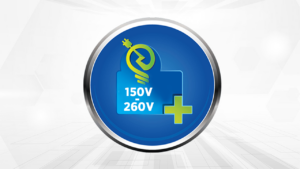 Efficient Heat Transfer by Double Row Condenser
Dawlance Air-conditioners come with Double row Condenser, which increases condensing volume due to which Heat transfer becomes efficient & energy efficiency increases.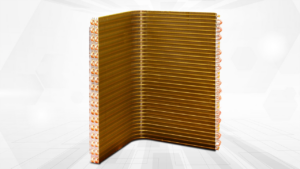 Memory Resumption
If you're tired of switching to your settings every time the power goes out, then an AC with Auto Memorized PCB is the perfect solution for you. This feature remembers your last settings and will automatically restore them when power is restored.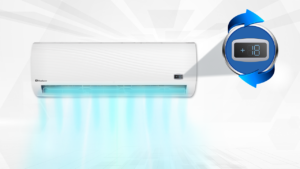 Copper Connecting Wires
Dawlance Air Conditioners have 100% copper wire connections ensuring high conductivity, efficiency and reliability of the product.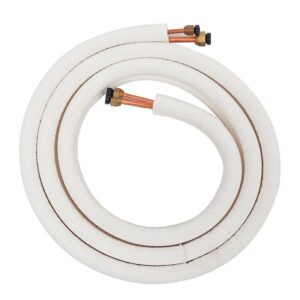 Dawlance Elegance Inverter Series with its golden fins, anti-rust coating, Typhoon Air Technology, bigger indoor and efficient inverter compressor is what you are looking for this season. Our advanced technology makes sure to give you the required savings without compromising on performance.
Heat & Cool
Auto Restart
Hidden LED Display
Multiple Programming Feature (Timer) 24 hours
Indoor Unit Cooling Operating Range 16 ~ 32
Condenser Fin Gold Fin
EER= 3.04
Cooler liquid R410 A
Energy In Heating (kW): 3.5
Noise Level DB: 42
Outdoor DB: 51
Air Flow rate m3/hr:550
Sleep mode
Removable/ Washable Panel
Self Diagnosis
Turbo Mode
Memory Function
Anti Rust Outdoor Casing
Moisture removal L/h : 1
Cooling Capacity (Btu / h) 12000 BTU / h
Voltage Range 150-240
12 Years Compressor Warranty
4 Years Card Warranty
Specifications of Dawlance Ac 1 Ton Dc Inverter ELEGANCE (INV) Latest Model – 4 Years P.C.B Card Warranty – 12 Years Compressor Warranty
Brand

Dawlance

SKU

216709706_PK-1426638789

Air Conditioner Features

Inverter

Air Conditioner Rated Capacity (BTUs)

1 Ton / 12000 BTU

Kit Included

Yes

Inverter

Yes

Room Size

130 SqFt

Connecting Wire

Yes

Model

ELEGANCE (INV)
What's in the box
1 x Dawlance 1 Ton Dc Inverter – 1 x Warranty Card – 1 x Pipe (10 ft) – 1 x Manual Guide