Description
Product details of Orient OR-6057IP – Top Mount Refrigerator – 396 LTR – Silver
Brand Warranty
Capacity (CFT): 14
Net Dimensions (W x D x H)mm: 600 x 585 x 1570
External Volume (Liters):551
External Volume (CFT): 20
Refrigerator Compartment Internal Volume (Liters): 225
Freezer Compartment Internal Volume (Liters): 106
Total Internal Volume (Liters): 331
Refrigerator Compartment Internal Volume (CFT):8
Freezer Compartment Internal Volume (CFT): 4
Total Internal Volume (CFT): 12
Premium Quality
Orient's Top Mount Refrigerator is a reliable refrigerator that can safely and compactly store all your perishable foods. Its internal sensor technology prevents your food from freezing and frost build up. It provides an electronic temperature control to keep your food at the perfect temperature. It has a total capacity of about 331 liters allowing you to store as much food as you want.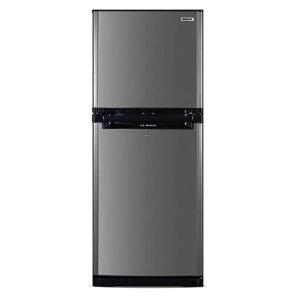 Unique Features!
Tired of your old refrigerator and freezer that don't cool much and leave your food completely dried out and with fungi all over it? Feel appalled by the mixed odor of different foods due to lack of compartments? It's time to throw your old appliances out and bring home a new refrigerator and freezer that is equipped with advanced, super cooling technology that will allow you to maintain necessary moisture and humidity in your food to keep them fresh. Remember, your family's health comes above everything, which is why you need Next Gen appliances in your kitchen.
Highly Efficient & Less Bills!
This refrigerator is the biggest example of perfection as they're made by cutting edge Japanese innovators. This refrigerator offers more storage room, advanced cooling execution and augments storage room for nourishment of different shapes and sizes. Enhancing temperature control in light of ecological conditions, and even builds storage room without influencing the cooler, safeguarding the flavors and freshness.
Fast Cooling & Fresh Food!
It has been made to ensure that consumer's get what they deserve. This refrigerator has fast cooling function, you get the best results in less bill. This refrigerator doesn't consume much bill even when it provides you with the best. So, now you can avail all the qualities you want from it without much bills.
Heavy Storage
Orient Refrigerator optimizes cooling performance and maximizes excessive storage space for food of varying shapes and sizes. Enhancing temperature control in view of environmental conditions, and even builds storage room without influencing the fridge, saving the flavors and freshness.
Specifications
Capacity (CFT): 14
Net Dimensions (W x D x H)mm: 600 x 585 x 1570
External Volume (Liters): 551
External Volume (CFT): 20
Refrigerator Compartment Internal Volume (Liters): 225
Freezer Compartment Internal Volume (Liters): 106
Total Internal Volume (Liters): 331
Refrigerator Compartment Internal Volume (CFT): 8
Freezer Compartment Internal Volume (CFT): 4
Total Internal Volume (CFT): 12
Evaporator Type: Roll Bond
Ice Cube Tray: 2
Plastic Coated Freezer Shelfs: 2-MS Plastic Coated
Number of Doors: 2
Door Lock: Yes
Handle Type: Horizontal
2L Bottle Rack: Yes
Temperature Control: Thermostat
Power Voltage (W): 220V-50Hz
Power Input (W): 140 W
Energy Consumption per 24hrs (kWh): 3.36kWh
Energy Consumption Per Year (kWh): 1226.4kWh
Specifications of Orient OR-6057IP – Top Mount Refrigerator – 396 LTR – Silver
Brand

Orient

SKU

OR771HL05A33ENAFAMZ-810662

Capacity

351 to 450 LTR

Warranty Policy EN

1 Year Brand Warranty
What's in the box
1 x OR-6057IP – Top Mount Refrigerator – 396 LTR – Silver1 x Manual